Custom Iron on Patches
Enhance your clothing with our easy-to-press custom iron on patches. These iron on patches can be tailored with either a refined thin-stitched edge or a sturdy merrow border, making them ideal for adding a personalized touch to jackets.

WATCH - Apply with a Heatpress
WATCH - Apply with an Iron
Patch Size Guide
Product

Preferred Size

Hat Square/Circle Patch

2 inches

Hat Rectangle Patch

4 inches

Front Left Chest Shirt

4 inches

Sleeve

3 inches

Back Neckline

3 inches
---
Our Embroidered Patch Examples
Satisfaction Guaranteed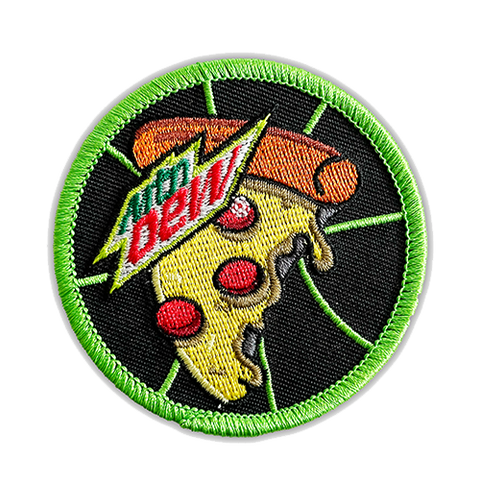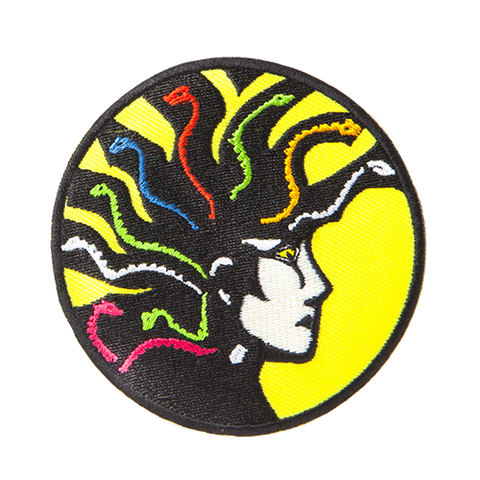 Almost Any Design Possible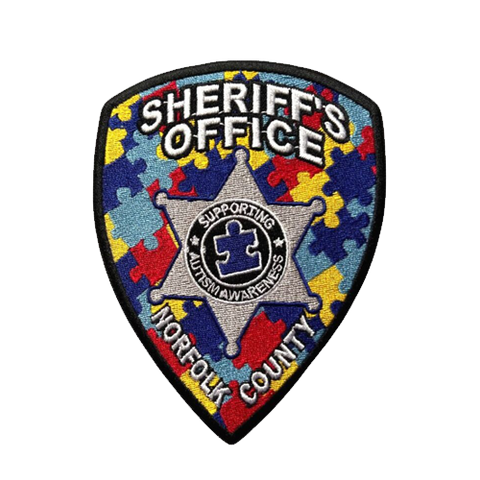 Custom Shapes & Clean Edges
Embroidery Closeups with Hot Spots
Beautiful Quality Everytime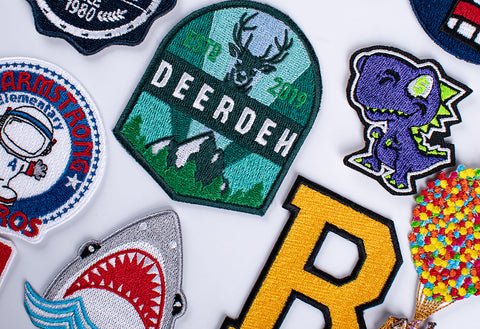 bullet
Full Color Embroidery
Use upto 15 colors in your logo for no additional fee
bullet
Perfectly Clean Edge Stitch
We put time and attention into beautiful and clean finishing
bullet
Custom Die Cut Shapes
We can handle any shape for your logo, letters, or design
What are custom iron-on patches?
Can I customize my own iron-on patch design?
Yes, you can! We allow you to upload your own artwork to create personalized iron-on patches. This means you can showcase your unique style, support a cause, or promote your brand with a design that reflects your personality.
What type of artwork can I use for customization?
You can use any digital artwork, including images, logos, text, and designs, as long as it meets the manufacturer's guidelines for quality and format. This allows for a wide range of creative possibilities, whether you want to display your favorite illustration, a memorable photograph, or a company logo.
What style options are available for custom patches?
Can I wash clothing with iron-on patches?
Yes, our iron-on patches are machine washable, which makes them suitable for everyday wear. However, we recommend turning the garment inside out and using a gentle cycle to prolong the patch's lifespan and prevent excessive wear.
Are iron-on patches permanent?
Iron-on patches can be very durable, but their permanence may vary depending on the application method. With proper care, they can last for a long time. For a more permanent option, iron on or use a heat press for extra security against wear and tear.
How can I apply iron on patches?
Applying iron-on patches is a straightforward process. The steps include: 
Prepare your garment: Make sure the garment or fabric you want to attach the patch to is clean and dry. It's best to wash and dry the item before attaching the patch to ensure good adhesion.
Position the patch: Place the patch on the desired location on the garment, with the adhesive side (usually the back) facing down onto the fabric. Double-check to ensure it's centered and aligned correctly.
Protect the patch: To prevent direct contact between the iron and the patch, which can damage the patch or your iron, place a thin cloth or parchment paper over the patch. Make sure it covers the entire patch.
Set the iron: Heat your iron to the appropriate temperature setting recommended by the patch manufacturer. Typically, this is a medium to high heat setting without steam. Refer to our

pressing instructions

for the exact temperature and time required.
Apply heat: Place the heated iron over the patch and the protective cloth/parchment paper. Apply gentle, even pressure to the patch, making sure you cover all areas. Hold the iron in place for the recommended amount of time specified in the patch instructions (usually around 10-20 seconds).
Check for adhesion: Carefully lift the iron and the protective cloth/parchment paper to check if the patch has adhered securely to the fabric. If any corners or edges are still lifting, reapply the iron for a few more seconds.
Let it cool: Allow the garment and patch to cool completely before wearing or handling. This cooling process helps the adhesive bond properly to the fabric.
Test the bond: Before wearing or washing the garment, test the bond by gently tugging on the patch. It should feel firmly attached to the fabric.
Final steps: Once the patch is securely attached, your garment is ready to wear. Follow any specific care instructions provided with the patch, such as washing instructions, to ensure the patch remains in good condition.