Step by Step Instructions
Iron for Garments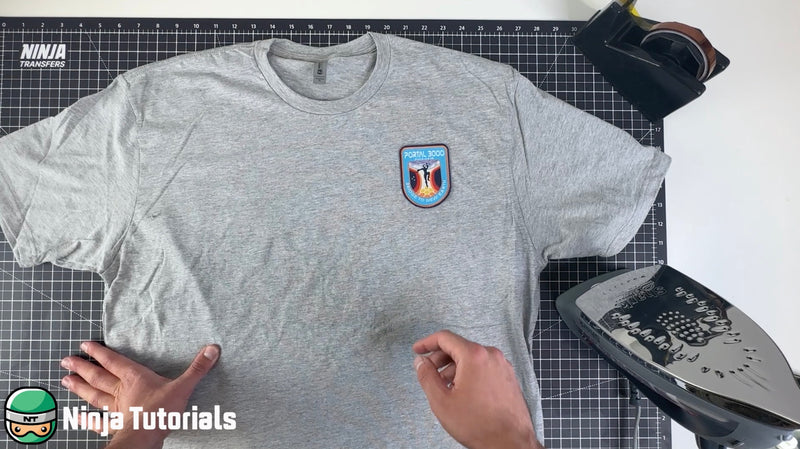 We recommend watching the video above for step-by-step pressing instructions
Step-By-Step Pressing Instructions
Prepare Garment For Press: Lay the garment onto an ironing board. Make sure the area you'd like to press your patch is wrinkle free before placing the patch down. We recommend ironing the application area to ensure the surface of the garment is completely wrinkle free.
Position The Patch: Now that the application area is wrinkle free, place the patch down onto the garment in its desired location. Being that the patch will be pressed facing down, secure the patch onto the garment by taping it down with Thermal Tape (heat resistant tape).
Flip Garment, Press For 20-25 Seconds: Once the patch has been secured to the garment with Thermal Tape, flip the garment over so that the patch is face down and touching the ironing board. Now that the garment and patch are facing down, grab your iron and press the back of the garment, over the area where your patch is taped on the front. Press for 20-25 seconds at MAX temperature with firm pressure.
Cool For 30 Seconds: After ironing the back of your garment over the are where your patch is located, flip the garment to its frontside and allow it to cool for at least 30 seconds. Giving the patch and garment time to cool allows the low-melt glue found on the back of the patch to solidify, thereby binding it to the garment. To speed up the cooling process, use our Fast Cool Peel Air Blower. Once the patch and garment are cool to the touch, remove the Thermal Tape.
Additional Details
For Thicker Fabrics (Hoodies, Jackets, etc.)
If after following these instructions the patch isn't adhering to your garment, it could be because the garment you're using is made of thick material, such as a hoodie, jacket, etc. If this is the case, tape your patch to the garment and flip the garment inside out. Then, lay the garment onto the ironing board so that the back of the patch is facing up. Lay a protective guard sheet over the garment and press for 40 seconds at MAX temp with hard pressure.
Washing Instructions
Ninja Patches are crafted to endure up to 25 home washes. Use cold water when machine washing.
Disclaimer
Ninja Patches recommends testing the best combination of heat seal parameters before application. Ninja Patches is not liable for any damages to garments during the application process.