Pressing Instructions
NinjaFlex Domed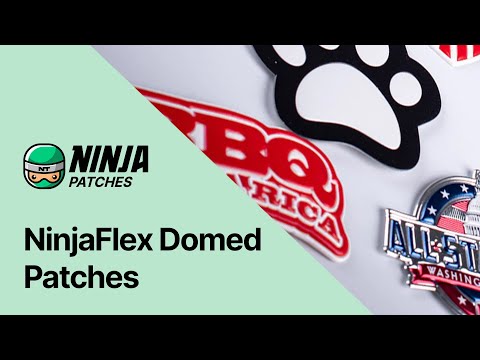 Application Settings - Garments
Temp: 355-365°F
Pressure: 40-50 PSI (Medium)
Time: 15-20 seconds
Instructions: Place the garment on the heat press with the NinjaFlex silicon pad on topand press for 15-20 seconds to preheat the garment. Place the NinjaFlex on the garment in the desired location. Place theRubber Application Pad over the design. Press for 15-20 seconds. Remove the shirt from the heat press and remove the clear cover once cooled.
Application Settings - Hats
Temp: 275°-285°F for top heat, 315°- 320°F for bottom heat
Pressure: 60-80 PSI (Medium High)
Time: 15-18 seconds
Instructions: Place the hat on the heat press, leaving out the inner layer of the cap. Use the adjustment lever for a better grip. Place the emblem on the desired location. To secure the emblem and preventing it from moving, use Thermal Tape. Place a Rubber Application Pad over the design. Press for 15-18 seconds. Deactivate the adjustment lever and remove the hat from the heat press. Remove the Thermal Tape and the clear cover once the emblem has cooled.
Limitations
Low Melt: Since the product is applied with heat, it is not recommended for use on materials that may be heat sensitive (ex. some nylons, silk some plastics, leather, wool, fleece, etc.). The product is intended to be used on hats, bags and jackets that are not intended for regular home washing.
Pressure-Sensitive: The use of these emblems on surfaces that may contain an oil finish, such as silicon, Protective Guard Sheet, rough fabrics, or outdoor goods is not recommended.
Washing Instructions
NinjaFlex Domed patches are crafted to endure up to 25 home washes. Use cold water when machine washing.
Shelf Life
To extend the longevity of this product, store it at room temperature. Avoid exposure to temperatures exceeding 485°.
Disclaimer
Ninja Patches recommends testing the best combination of heat seal parameters before application. Ninja Patches is not liable for any damages to garments during the application process.