Full Color Printed Patches
Custom dye sublimation patches allow for vibrant full-color printing with your unique text and designs. Similar to our embroidered badges, these sublimated patches are finished with a merrow border in a thread color of your choosing.
Add a Premade Patch Sample to Cart - $0.01 - Add to Cart
WATCH - Apply with an Iron
Full Color Closeups
Patch Size Guide
Product

Preferred Size

Hat Square/Circle Patch

2 inches

Hat Rectangle Patch

4 inches

Front Left Chest Shirt

4 inches

Sleeve

3 inches

Back Neckline

3 inches
---
Our Sublimated Patch Examples
Satisfaction Guaranteed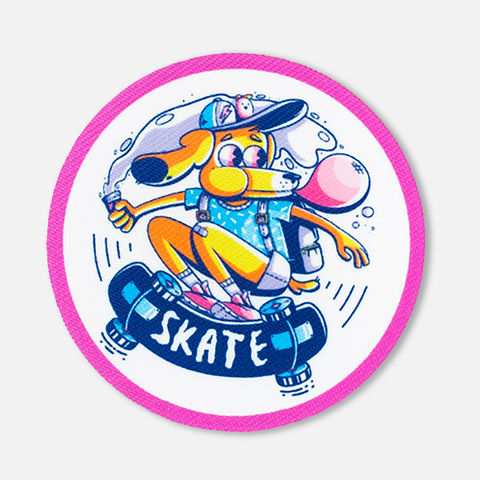 Incredible Detail & Brightness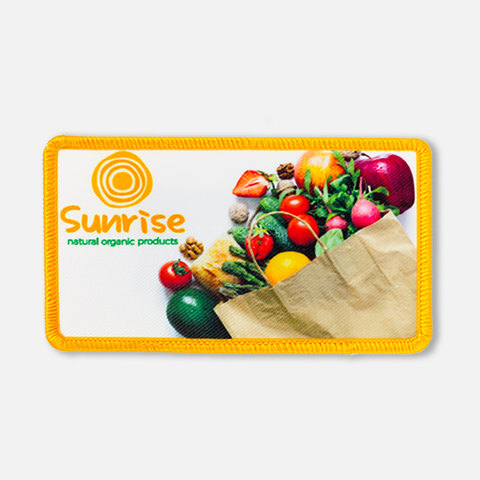 Photo Realistic & Full Color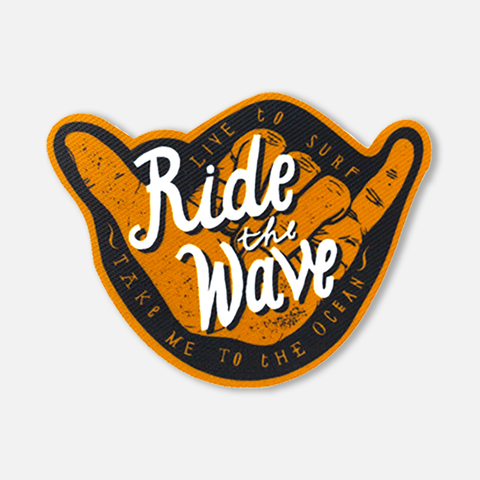 Custom Shapes & Clean Edges
Sublimated Patch Closeups with Hot Spots
Beautiful Quality Every Time
bullet
Design with full color photos
No detail gets left behind
bullet
Add a merrow border
Giving your patch that professional look
What Are Full Color Printed Patches?
Full color printed patches are custom-designed textile patches that feature intricate and vibrant designs printed directly onto the fabric. Unlike traditional embroidered patches, which use thread to create designs, these sublimated patches utilize digital printing technology to reproduce complex artwork with a wide range of colors and details.
What Are the Benefits Of Full Color Printed Patches?
Detailed and Vibrant Designs: Full color printing allows for the reproduction of intricate artwork, including gradients, photographs, and complex color schemes.
Quick Turnaround: Digital printing is a faster process than traditional embroidery, making these patches an excellent choice for those in need of a quick turnaround time.
Customization: Customers have the flexibility to design patches with virtually any image or artwork they desire, making them ideal for brand logos, promotional items, or personal expression.
Durability: The printing process results in vibrant, long-lasting colors, and the patches are typically durable and resistant to fading when cared for properly.
What Are The Applications Of Full Color Printed Patches?
Our custom full color printed patches are versatile and can be used in various ways, including:
Branding: Businesses can create patches with their logos to promote their brand on clothing, bags, and merchandise.
Personalization: Individuals can design patches to showcase their interests, hobbies, or personal messages on jackets, backpacks, and more.
Events and Promotions: These sublimated patches are suitable for commemorating events, clubs, or special occasions, serving as souvenirs or promotional items.
Uniforms and Workwear: Many organizations use printed patches for uniforms and workwear to represent their company or team identity.
What Types Of Artwork are Suitable For Custom Full Color Printed Patches?
One of the most beneficial features of our full color printed patches is that there are no image requirements. That means you're able to upload any type of image including photo realistic, logos and illustrations. 
We recommend uploading high quality graphics to ensure the best quality design is printed onto your patches. With complete personalization available, our sublimated full color printed patches remain a top choice for our customers.
Are Full Color Printed Patches Machine Washable?
Yes, our full color printed patches are machine washable. However it's important to make sure that they are washed on a cool setting with mild detergent to ensure long-term vibrancy and durability. If you opt for the press and stick, this is designed for one time use and are unlikely to be machine washable. 
Is There A Minimum Order Requirement? 
The minimum order requirement for our full color printed patches is 25. 
What Makes Full Color Printed Patches From Ninja Patches Different? 
Our full color printed patches are a popular choice out of our custom patches range. These sublimated patches offer custom shapes and clean edges. They're photo realistic and vibrant, with full colors making them pop. With incredible detail and brightness, no matter the image, our sublimated full color printed patches are an ideal choice regardless of the organization.
Enjoy a FREE virtual proof of your artwork prior to production and fast shipping. Design your custom full color printed patches today!